It's time for another weekly update from the Kenay Kustoms team! This week has been quiet on the product design front, with a focus on making changes to the website, giving our customers a more personalised and easier experience when it comes to choosing and purchasing our products. However we have continued to chip away at the designs for:
PX1 Ranger UHF MIC holder
LC200 Pillar Pods
LC200 Triple Gauge holder
LC200 Over Head Switch Panel
PX2 Ranger Pillar Pods
Stainless Steel Snorkels
Suzuki Jimmy Over Head Switch Panel
We also test fit the prototype for the Territory SY Gauges and they were a perfect fit. This is great news and means they are on track for being released by the end of this month. Maybe it has been a busy week after all and this long weekend could not come soon enough!
This week we'd like to showcase our product of the week, the PX1 Ranger iDrive Integration Panel. This switch panel is positioned to the RH side of the steering wheel. The panel allows the user 6 extra spaces for switching capabilities while being able to completely view and change settings on the iDrive unit. Our design includes 2 factory clips to make the install as simple as it gets, as well as being colour matched to allow for a seamless integration to your Ford Ranger PX1. With final revisions being made, we expect this product to be released by the end of March 2020.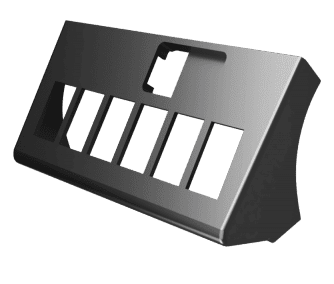 In other exciting news we'd like to announce that in the coming weeks, Kenay Kustoms are sponsoring "THE BIG 3" Community Weekend put together by the Vic High Country Trips, Info, Vehicle Setups Facebook group. Their goal is to create local economic stimulus in the fire affected communities of Gippsland that closed much of the region off from local tourism. The event involves a three day trip around the Victorian High Country, visiting the areas around Glenmaggie, Licola and Dargo. The tour will end in a raffle collection with proceeds being used to purchase equipment from a bushfire affected hardware store, with the equipment then being donated to BlazeAid to assist with their on ground recovery efforts. The Kenay Kustoms team are proud to be attending this event and will be donating our products to be up for grabs as some of the raffle prizes. We will have a small set up in Licola so you can see some of our products in person. For more information on THE BIG 3, visit: https://www.facebook.com/events/487843655475703/
On behalf of the KK team we wish you a ripper long weekend.

Keep wheeling,
Kenay Kustoms

We love receiving feedback from our customers so if you need alterations made to a product to suit your needs get in touch with us via:
Product Request