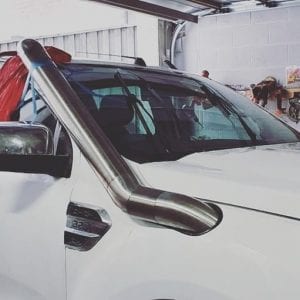 Stainless steel snorkles are coming, and our prices will not be beaten!
Why Kenay Kustoms though?
Like everything we do it's not about slapping something together because that's what the industry needs. No, we fully invest our time into researching customer requirements, watching how customers react to what's currently available in the industry and fully fulfilling their needs.
Take our PX series Ranger snorkle for instance, when released it will be a completely seemless tube with 100% no visable welds or miss-aligned tubing, it will have no visable bracketry or nasty flexible hosing.
Our pricing won't be a scale of "cheap and nasty all the way up to a finished product" we will have one price for either powdercoated or polished, nothing else.
Our silicon bends are high quality Raceworks items as are our t-bolt clamps.
The work never stops, and the ideas don't either.
By september 2020 our plan is to not only have a switch panel and gauge mount available for every popular 4×4 but to also invest in providing our customers the neccasary high quality accessories to go with them.
You can expect quality
You can expect reliabilty
You can expect a fair price
You can have Australian Made!
And we will deliver!